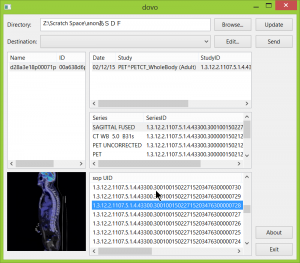 Overview
Point of care, cross-platform software for importing DICOM CD and files then sending it to PACS. Usage scenario is front desk staff getting handed a CD with patient's images. This tool allows the front desk to preview the images, and send to PACS. Tested on Windows and OS X.
Supports Group Policy for PACS destinations on Windows.
Supports Windows Vista and above including Windows 10
Supported on OS X
Works on Linux
Supports Unicode file and path.
Image preview
No dll's need to be distributed.
Native, no Java required.
Download
Windows
|
Windows (MSI Installer)
|
Mac
| Linux (compile from source)
Windows Group Policy Templates
Sample DICOM images
Source Code
https://github.com/DraconPern/dovo